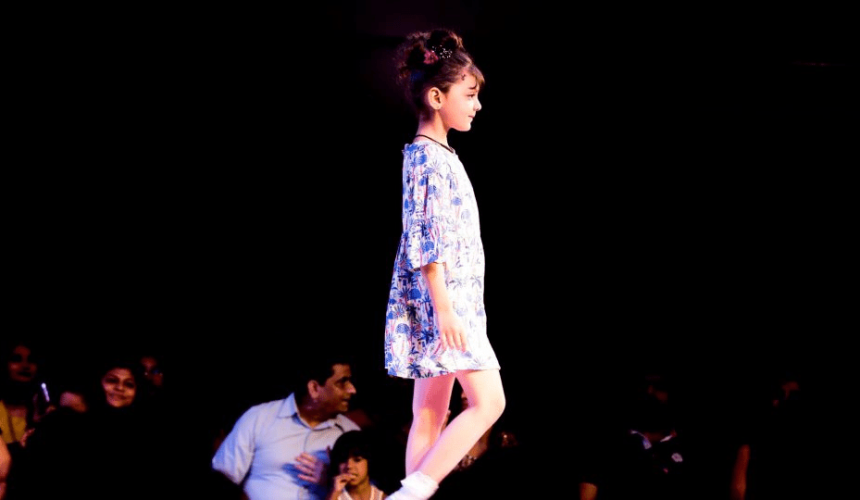 Little superstars created magic on the runway of JFW in the city of dreams, Mumbai!
The excitement of Junior's Fashion Week sparked the air at Grand Hyatt, Mumbai. The event brought into spotlight trendy, fashionable and equally comfortable collections by the showcasing brands. Junior's Fashion Week not only allows the spectators to enjoy the procession of cutting-edge ensembles and have a first-hand look at the new collection, but also helps them acknowledge the brands, fabrications, and varieties of the collection and accessories parading before them.
Fashion is being comfortable in what you wear. Trendy hoodie, stylish skirts, drop-dead gorgeous dresses and some cool and cozy jackets and bottoms, were some of the big takeaways from the runways of Junior's Fashion Week, the two-day event that ended on 01st October 2017 in Mumbai.
In the Autumn-Winter edition, Allen Solly Junior showcased multifold collections. Allen Solly Junior introduced three different looks namely, 'Sport the Adventure', inspired by military and jungle look, 'Athleisure' that includes special fabrics & trim plays and 'Party Squad' to created specially to cater to special occasion & party.
Speaking on the association, Mr. Ajay S. Kumar, Brand COO, Allen Solly, Madura Fashion & Lifestyle, Aditya Birla Fashion and Retail Ltd said, "We are excited to partner with Junior's Fashion Week and showcase our new trendy, in-vogue fashion for the young generation. Today's kids are aware of the latest fashion, global trends and more importantly want to stay ahead of the fashion curve and that's the gap that Allen Solly Junior attempts to bridge, with its curated and expressive fashion line. The innovative and youthful nature of this show is a good platform to showcase our AW'17 kids' collection and we are excited to be part of the same."
On the other hand, Marks and Spencer presented a collection that offers a wide range of creatively designed jumpers and bomber jackets in luscious greens, snug blues and bright yellow hues which will surely brighten up your child's winter wardrobe.
Mr. Pankaj Kapoor, Head of Marketing – Marks & Spencer Reliance India said, "Marks & Spencer is proud to be associated with the Juniors Fashion Week in India. It is a great platform for us to showcase our quality, innovative Kidswear collections. As well as being fun and stylish, we pay extra attention to comfort, safety, and convenience to ensure we offer clothing that parents are happy to buy and kids love to wear."
Ending the event, US Polo Assn Kids showcased its trendy and stylish collection that features traditional, preppy and updated looks. The collection offers contemporary elegance, great tradition and a jovial attitude which reflects in the positioning, imagery, and experience as a premium brand.
Mr. Alok Dubey from USPA says, "U.S. Polo Assn Kids has always been a very integral part of our brand and we are pleased to be associated with Junior's Fashion Week. The creative and youthful nature of this show is a good platform to showcase our kids' collection. Rooted in the brand's American origin and polo connection, the collection stays true to classic American styling showcasing a vibrant play with reds, blues, and whites highlighted with stars, stripes, and dot prints. The overwhelming reaction from parents and kids has given us a strong sense of responsibility to prove ourselves and provide a great clothing line for our junior models."
The idea behind the event was not only to provide the brands a never like before platform to showcase their kids' collection but at the same time to enrich the children with confidence and groom them for their better tomorrow. Spectators were stunned at the amazing collections that were showcased by the respective brands but also at how wonderfully the junior models have been groomed for the final runway walk. The junior models sure left everyone flabbergasted and in awe of them.
Speaking on the participation, Mrs. Sonika Bhatti, mother of Saivi Singh, one of the Global Brand Ambassadors for Junior's Fashion Week AW17, said, "I want Saivi to do what she wants, not just now but in her life ahead as well. She has a keen interest in fashion and styling, and what could have been a better platform for her to not only showcase her talent but also to live her dream than Junior's Fashion Week. She is head to toe excited to be associated with JFW as one of the Global Brand Ambassador and so am I."
With such an amazing experience at Mumbai, Junior's Fashion Week is excited and thrilled for the next stop of the Autumn Winter journey in Gurugram.