ABSTRACT
OF JUNIORS FASHION WEEK
AN ENSEMBLE OF CREATIVITY & VOGUE
Junior's Fashion Week is the pinnacle of creativity and fashion. The blend of JFW's imaginative ideas and creative flair caters to the kids' desires to exhibit their inventiveness. JFW is a Kids Fashion rostrum and podium that recognizes and encourages young talent by instilling confidence, self-esteem, and grooming. JFW makes sure that the little ones take to the ramp with poise and learn how to face the camera with aplomb. JFW is a remarkable & transformative journey for these little geniuses who are destined for greatness.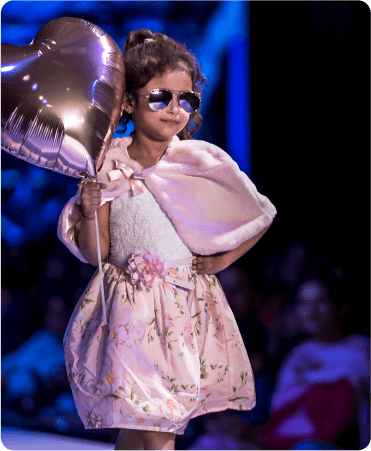 MANIFESTATION OF EXQUISITE RUNWAY SHOWCASE
ASTONISHING FACTS ABOUT JFW
The journey of JFW is exceptional and notable. This sensational fashion showcase platform has achieved many milestones & many are yet to achieve.
WHAT DO INDUSTRY LEADERS SAY ABOUT US?
Junior's Fashion Week for brands is a boom for the associates and amplifies the brand's market value.